Piano Repairs and Refinishing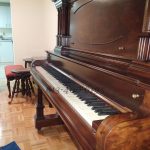 If you are a piano player and owner, likely your piano has a rich history and has become part of the family. Perhaps you and your children and even grandchildren have all learned to play on the same grand or upright piano? You wouldn't consider getting rid of your prized string instrument in lieu of a new piano. We understand how important it is to bring the life back into your prized upright or grand piano and offer a piano repair service and refinishing.
A piano built with love and proper craftsmanship can last hundreds of years with proper service and maintenance. Part of this service is reconditioning and rebuilding and involves great skills, artistry and craftsmanship. To restore an instrument properly, you can reinvigorate your piano and give it new life and future to be enjoyed by generations to come.
Our specialized piano repairs include restringing, hammer replacement, felts, plastic key top replacements, caster maintenance and replacement, rubber piano caster upgrades to protect your hardwood floors, pedal replacement and repairs and restoring a piano's original ivory keys. We also offer swivel stool sales and service as well as bench repairs and refinishing.
Every piano repair service is a custom job. We do this to ensure that we are delivering the best possible value to our customers. Your piano is unique and so should your repairs. We want to ensure that your piano gets the attention that it deserves and is serviced with proper parts for its manufacture. You won't find any Mickey Mouse  solutions here. We use only the best and most trusted suppliers of piano parts and service.
We typically clean and lubricate your instrument and offer damp chaser services as well. We are fully qualified to rebuild your upright and grand piano including:
Pin block replacement & Piano Tuning Pins
Soundboard Repair & Replacement
Restringing
Hammer replacement
Voicing of Hammers
Dampers and action felt replacement
Key tops and key bushings
Touch weight analysis
Key whitening
We provide repairs and service to all makes and models including:
Uprights
Grand Pianos
Player Pianos
Digital Pianos
Forte Pianos
We provide piano maintenance service to all the following piano brands:
Kohler & Campbell
Gerhard Heintzman
Newcombe
Mason & Risch
Bell
Yamaha
Kawai
Steinway
and many more….
Some of the steps involved in refinishing pianos include:
Applying stripper and brushing in in the direction of the wood grain. Scraping with a knife any dissolved finish remaining. Its important to get a bare wood feel before anymore can be done.  Washing the area down and stripping any areas containing finesse such as details. After the wood is prepared for finishing, it is stained and finished. There are several types of finishes and you should discuss with your piano refinishing contractor to find the best one for your project. We usually give a fine sand in-between coats of finished and polish the final coat.
Specialized Piano Movers Ottawa is a company that is owned and operated by Anthony Yerly. Anthony or "Tony" is an experienced piano enthusiast who is skilled at refinishing, repairing, cleaning, maintaining, tuning and moving of your pianos of any make and model. Call or text Anthony for a quote today at 613-400-6195